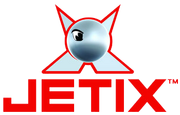 Welcome To Jetix Wiki
Edit
Jetix was a worldwide children's television programming brand owned by The Walt Disney Company. The Jetix brand was used for blocks and channels featuring action-related and adventure-related live-action and animated programming that has replaced Fox Kids. It was also a Disney brand of Fox Kids. Disn ey retired the Jetix brand in 2009 and replaced it with Disney XD (or Disney Channel in some countries). The last remaining Jetix in the world in Russia, was replaced by Disney Channel on August 10, 2010.
List of TV shows that Jetix broadcast
Edit
All Of Jetix Shows
Do NOT post pages about the Jetix TV shows. This wiki topics on Jetix, Jetix Kids Cup, Jetix Monster truck, Jetix magazine, and Toon Disney. It does not focus on TV shows and characters.
Subreddit
Edit
Jetix now has a subreddit to bring back the childhood of many people. Thanks to the people over at KissCartoon, the ability to bring back Jetix is now on demand.
All your favourite shows are here on jetixTV, including Yin Yang Yo!, Oban Star-Racers and Pucca. Check it out!
Ad blocker interference detected!
Wikia is a free-to-use site that makes money from advertising. We have a modified experience for viewers using ad blockers

Wikia is not accessible if you've made further modifications. Remove the custom ad blocker rule(s) and the page will load as expected.